Overview
Shinkin International Ltd. faced the challenges of escalating maintenance costs, performance risks related to an inherited IBM infrastructure environment and its ultimate renewal. When system problems were experienced, there was a need to identify the most suitable service provider to resolve any issues. With the multi-discipline support requirements and various different suppliers responsible for maintenance services of the hardware and software systems, this became a very time-consuming overhead to resolve the problems. Once the decision had been made to renew of the main systems, Shinkin International adopted an upgraded AS400 managed service to be provided from an IIJ London Datacentre. The rationale was to provide Shinkin International Ltd. with a single point of contact for their IT needs and requirements together with a newly established support system eliminating the need to liaise with multiple service suppliers, resulting in increased productivity and a significant reduction in the historical rate of systems failure.
Challenges
Growing performance risks due to aging machine
Escalating internal workload for trouble shooting
Negatively impacting core business operations resulting in increased overtime working
Solution Benefits
Upgraded machine reduced administration time
A single point of contact for IT needs reduced internal workload resulting in increased productivity
Reducing overtime working resulted in greater employee satisfaction
Challenges and objectives before service introduction
The escalating administration costs of an aging IBM Power system infrastructure.
As customer demands increased over the last two to three years, so did the volume of transactions. The previous Power Systems (AS400), installed on-premise and at a backup site, were unable to appropriately handle the increased volume of transactions and the required system functions. Therefore, due to the lack of a system upgrade, hardware and software failures occurred more frequently and had a negative impact on the overall business operations.
Mr. Koichi Kawashima, Managing Director of Shinkin International explains "
t is to be expected that we properly deal with processes relating to customers' assets, but the frequent occurrence of system troubles experienced had increased the adverse risks to our business and it was therefore essential to urgently deal with the matter. However, it took a long time to identify all the issues, confirm the required component parts, find a supply and stock of replacement parts and to procure the qualified maintenance engineers to complete the works. It was established that the necessary components had already reached their 'end of life', were no longer in production by the manufacturer and that the only realistic solution was to completely replace the existing system."
Cost of managing multiple supplier relationships.
On the topic of troubleshooting at the time of failure, Mr. Masashi Tanioka, Director, said:
"We had business with multiple suppliers providing the software, hardware and backup maintenance. When facing difficulties, we would contact the appropriate supplier however, in the majority of cases, the identified issues were neither resolved promptly nor accurately. The new project would not only provide a reduction in costs for system maintenance and engineering but also and importantly, a reduction of our internal workload. The work associated with contacting the suppliers, arranging the necessary visitor security protocols and managing the supplier support personnel would often require a considerable amount of extra work and overtime for our staff."
To allow Shinkin International to sustain and enhance its core business, it was necessary to establish a complete new support system that could be utilised in the event of a system failure.
Why IIJ was chosen
Cloud based production and back up environments that remained locally compliant.
Mr. Kawashima explains "We investigated various services and eventually concluded that the best solution was to migrate the main system from our office to an IIJ Europe datacentre and then connect our offices to it via a dedicated line and an internet gateway; backup being provided via the Cloud."
Mr. Kawashima continues "We carefully examined the IIJ 'GIO Power-i Service' and had to carefully consider the Financial Conduct Authority (FCA) regulation under which Shinkin International were precluded from the siting of a system server outside of the UK border. We therefore, adopted an appropriate Cloud based solution which provided minimal risk of system failure at the London location. Together with IIJ Europe we were able to understand fully the system situation and to address any issues very promptly."
Service Delivery
Assumptions and measures in disaster.
About the process from service configuration to delivery, Shinkin international and IIJ Europe had in-depth information sharing. Mr. Tanioka said: "We are satisfied with the timescale of the service delivery. However, from an internal point of view, understanding the advantage and disadvantage of the Cloud service is key. Therefore, we spent much time in formulating verification processes particularly considering various disaster scenarios."
Mr. Tanioka continues, "In general, plans and execution outlined by the suppliers do not always necessarily meet our business requirements. This did lead to some critical issues during the delivery process of the project, however IIJ Europe understood all our needs and gave us sound and proper advice when required. We also benefited from the thorough validation provided by IIJ."
Solution Benefits
Reduce administration time by a third.
IIJ's solution has enabled Shinkin International to reduce its administration costs by over a third. This has been achieved thanks to the adoption of more efficient hardware and a reduction in related support and maintenance costs. IIJ have managed to reduce the complexity of the overall IBM infrastructure and provide a resilient, scalable environment for the client.
Reduce the cost and increase the efficiency of the production and back up environments.
With the benefits of the upgraded IBM Power Systems Managed Service mode Mr. Kawashima said: "The updated version of the system has allowed for the backup process to be far more efficient and this has been especially useful in any critical event allowing the business to operate continuously during critical situations."
With the benefits of a single point of contact, Mr Tanioka said: "When a failure previously occurred, we had to contact multiple suppliers in order to identify the issue and this seriously interfered with our business operations. However now and with IIJ Europe being our single point of contact, we have seen our productivity increase. This change has resulted in greater efficiency as it means we spend less time trouble shooting and more  time focusing on the core business. In addition, by switching to IIJ's IP service, our web browsing speed has significantly improved and I can now browse websites without any hassle or delay."

Future Prospect
The future prospect, Mr. Kawashima said: "I would like our employees not to have to deal with system troubles but to carry out new business and use their time more effectively towards the improvement of our business efficiency, resulting in greater employee satisfaction. The new systems implemented will result in greater efficiency amongst staff members, overtime would be reduced and new initiatives forthcoming from staff members. I am totally satisfied with the project results and fully expect productivity to increase. In addition, we have improved our system security by migrating system components to an IIJ datacentre and we can now utilise the expensive and now redundant, equipment space for other business purposes. We do face more challenges; access to the datacentre from outside of office area and the DR site and ensuring that we minimise the risks of information leakage. We will now be carefully considering points following the success of this particular project."
System Configuration Chart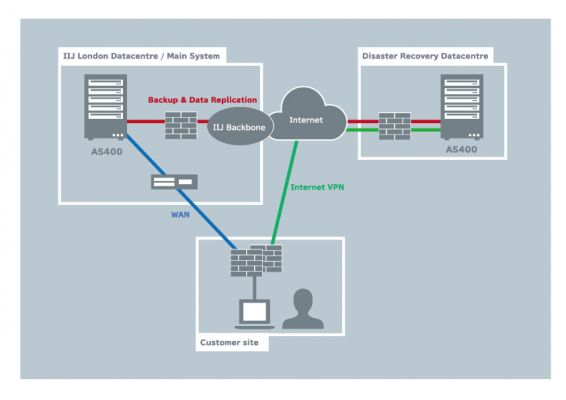 Company Profile
Shinkin International Ltd.

Address
85 London Wall, London EC2M 7AD
Business Overview
Shinkin International Ltd. is a stockbroking company underwriting and trading bonds.
Corporate Profile
Shinkin International Ltd., a wholly owned subsidiary of Shinkin Central Bank, established in London in 1990 as the global base for their stockbroking business.
Interviewees
Managing Director Mr Koichi Kawashima
Director Mr Masashi Tanioka

[Photo] Director Mr Masashi Tanioka